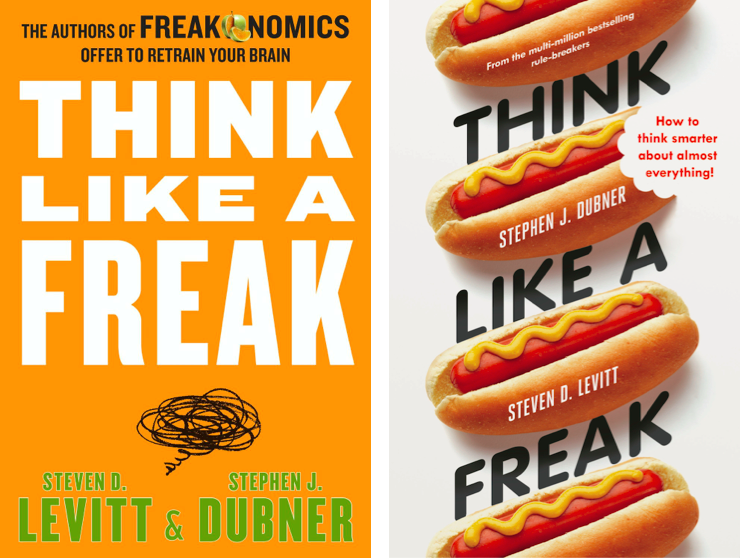 Think Like a Freak
by Steven D. Levitt & Stephen J. Dubner
(William Morrow 2014)
How would you describe your own thinking processes? Are they conformist (running with the herd), non-conformist, idiosyncratic or some other pattern derived from celestial or religious origins?
Whatever their source, those processes are critical elements of how we interact with events on a daily basis. For example, if loudmouths are speaking inappropriate words in a loud voice in a closed in space (like an airplane), do you try to ignore it, become confrontational, or otherwise. I tend to become confrontational wanting to stop the insulting behavior.
Levitt and Dubner commenced a focus on behavior in Freakonomics with the hope of retraining our brains to think more economically and rationally. Of course, what they may be doing is retraining their own minds and lifestyles, then publishing the results to fund unique lives. We all have an axe to grind.
In any event, they celebrate unique ways of reacting and proselytize for individuality. Think Like a Freak is entertaining, easy reading. It is also thought-provoking. For example, I found quite revealing the discussion about feedback. Our authors advise that the key to learning is listening to feedback. In other words, adapting our behavior and thought based on what we learn from experience. They cite an example of an advertising campaign in newspapers. Due to an oversight, an area of Pittsburgh was not covered for an entire summer. The agency was fired. But when sales statistics were checked, there was no difference with or without the advertising. The take-away from feedback: maybe the advertising was a waste of money. Do you think it continued
I had other favorites. One was the perception that expensive wine is better. Taste tests reflect that ratings are random as compared to actual cost. Does that feedback suggest that we should retrain ourselves to buy the cheapest in a specific varietal?
Another revealing observation involves personal exercise. If you decide that you should do wake-up thinking you should do some push-ups and can do 5, should you be happy? Or should you challenge yourself. Why not ask yourself for 25, or 50, or 100. Go for it! I did so and now do 105 per day, 35 at a time.
Finally, they address the subject of declaring an end to one element of your life and moving. This is therapeutic for all of us, regardless of how difficult it may be. Our authors address this in the context of whether they should terminate the Freaks series. Letting go of such a successful enterprise would be the antithesis of the inevitable conventional wisdom to go with a winner. On the other hand, letting go may open other frontiers of even greater opportunity/
We are all freaks, so let's liberate ourselves!